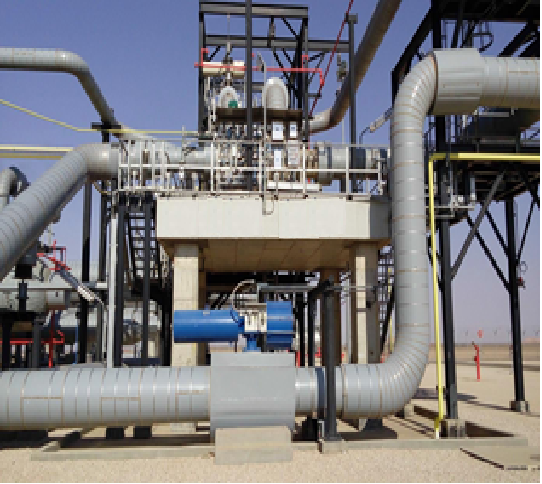 Course Title
Advanced Turbo Expander Compressor Technology: Turbo Expander Operation, Performance, Maintenance & Troubleshooting
Course Duration/Credits
Five days/3.0 CEUs/30 PDHs
Course Description
This hands-on, highly-interactive course includes various practical sessions and exercises. Theory learnt will be applied using our state-of-the-art simulators.
Cryogenic turbo-expanders are used in many applications, including ethylene plants, refineries, gas processing plants, and air separation facilities. They frequently produce the coldest level of refrigeration available in the plant, and often operate with turbine outlet conditions where large quantities of liquid are condensed during the expansion process.
Turboexpanders have come a long way in the last 20 years. Their high efficiency and reliability have led to widespread use around the world. The use of magnetic bearings in many critical turboexpander applications such as ethylene plants has become common, and in the natural gas processing market, they are making inroads as well.
This course explains how turbo expander design features and how it works and the critical conditions in expander operations and troubleshooting. The course then discusses hydrate formation in turbo expanders and the operation of a turbo expander, including bearings and seals, lube oil system and the seal gas system.
API 617 (2002) now addresses cryogenic turboexpanders in Chapter 4 of the Seventh Edition. Annex 4F of the same document provides guidelines for purchasing equipment using magnetic bearings, and this section is particularly applicable to turboexpanders. This 5 days course will attempt to broaden the knowledge of engineers, supervisors and operators regarding cryogenic turboexpanders, briefly covering both their design and application.
In addition to the comprehensive training manual, the course includes a textbook entitled "Boiler Operator's Guide", published by McGraw-Hill Professional, which will be given to the participants to help them appreciate the principles presented in the course.
Course Objectives
Upon the successful completion of this course, each participant will be able to:-
Recognise the basic principles of the turbo expansion process
Identify the basic operation of a turbo expander
Design fundamentals of turbo expander
Carryout efficiency operation of the turbo expander
Identify critical conditions in expander operations such as expander speed and hydrate formation in turbo expanders
Explain turbo expander auxiliaries, turbo expanders and their relationship to your plant's process, turbo expander installation and commissioning, turbo expander startup and operations, turbo expander servicing and problem resolution
Explain the overview of sub-vendor instrumentation information
Identify bearings and seals, lube oil system, the seal gas system
Apply turbo expander disassembly and assembly procedures as well as expander testing
Describe turbo expander/generator, noise control
Employ reliability/maintenance
Acquire in depth knowledge about ethylene production plants
Troubleshoot and analyse how a turboexpander-compressor system works
Identify each part of a turboexpander-compressor system
Analyse the turboexpander-compressor design principles
Read and produce a turboexpander-compressor control system
Who Should Attend
Who Should attend?
This course is intended for professionals that are working in ethylene production facilities where a turboexpander-compressor technology is being used or considered in order to recover ethylene.
In particular this course would be advantageous for:
Operations and maintenance Engineers, Supervisors and Technicians
Process Technicians/ Operators,
Supervisors, Process Engineers, Project Engineers, Process Improvement Engineers,
In an unlikely event, the course instructor may modify the above training methodology before or during the course for technical reasons.