Malta, officially known as the Republic of Malta is a Southern European island country consisting of an archipelago in the Mediterranean Sea.

It lies 80 km (50 mi) south of Italy, 284 km (176 mi) east of Tunisia, and 333 km (207 mi) north of Libya. With a population of about 515,000 over an area of 316 km2 (122 sq mi), Malta is the world's tenth smallest country in area[ and fourth most densely populated sovereign country.
Its capital is Valletta, which is the smallest national capital in the European Union by area at 0.61 km2 (0.24 sq mi). The official and national language of the country is Maltese, which is descended from Sicilian Arabic that developed during the Emirate of Sicily, while English serves as the second official language.
Malta is a popular tourist destination, with 1.6 million tourists per year. Three times more tourists visit than there are residents.
Tourism infrastructure has increased dramatically over the years and a number of hotels are present on the island.
The visitors are attracted by the rich history of the island, its culture which has inherited a variety of ancient civilisations, blending together East and European West, spiced with the Mediterranean character, music and cuisine.
The Phoenicians, the Carthaginians, the Romans and the Byzantines have all occupied Malta at some point in history, leaving a mix of many different architectural styles and artifacts to explore.
The sovereignty of the Knights Hospitaller over Malta from 1530 to 1798 resulted in a legacy of elaborate artistry and architecture throughout Malta.
The country's modern museums and art galleries feature relics from Malta's history for tourists and Maltese residents alike to enjoy.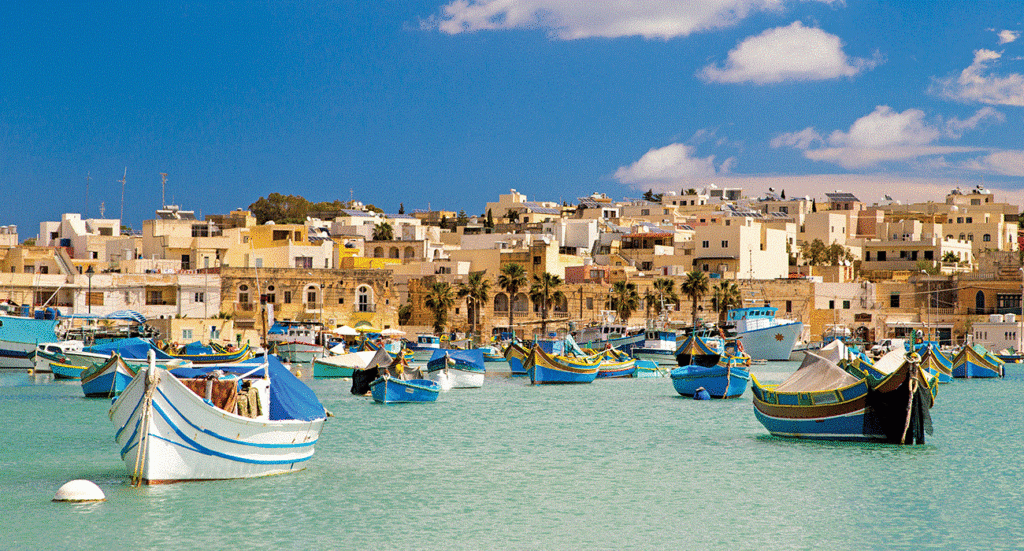 You should definitely take some time to discover Malta's fascinating thousand-year-old fortresses, megalithic temples, and Neolithic burial chambers, sunbathe on beautiful beaches, indulge in Maltese cuisine, and work it off by hiking the fossil-infused limestone cliffs or scuba diving through extraordinary underwater caves.
With warm summers and mild winters, it's the perfect holiday destination all year round.
10 Best Places To Visit In Malta
Tourists will acknowledge the restaurants, lovely hotels, historical sites and cultural events in Valletta, the capital of the country.
Sliema has less culture but more entertainment alternatives throughout the harbour and draws many students for school breaks.
Gozo is the easiest choice for respite on the beach, or snorkelling, diving and nature hikes.
The weather in Malta is flawless in spring and autumn. The hot summer months bring religious festivals and open – air concerts to life in the villages.
Choosing the right place to explore in this island can be a s task and this is why we have compiled a list of some of the top places to visit in Malta!
St. John's Co-Cathedral
Island Of Gozo
Popeye Village
Golden Bay
St. Agatha's Tower
The Parish Church of Mellieha
Blue Lagoon
The Mnajdra Temples
Hagar Qim Temples
The Tarxien Temples
For more information and arranging the trips to Malta either for leisure or education please feel free to contact us at start.inforum@gmail.com