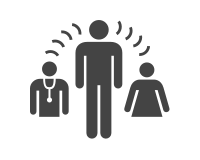 Medical and pharmaceutical products are usually distributed in several countries. We supply translation and interpretation services timely, in a reliable manner and in a suitable style.
Our range of services begins with translations of package information leaflets, operating instructions for medical equipment, clinical findings and scientific studies and extends via interpretations for the individual cases, health care meetings and conferences.

Our customers can count on medical translations and interpretations by native speaker translators with in-depth knowledge of the subject matter and experience in multilingual and multicultural communications.

Our specialists for medical technical translations
Qualitative and faultless translations are an exceptional prerequisite in medicine and pharmaceuticals. The quality of communication in the domain of medicine, pharmaceuticals and health care is an absolute must to deal with the human health and furthermore with the image of hospitals, medical equipment suppliers, pharmacies, pharmaceutical producers, authorities and researchers. A misinterpreted information can have very serious consequences affecting all stakeholders of the medical issue.

That is the reason the translators, operating in the domains of medicine and pharmaceuticals, must meet the following criteria:

• many years of experience in the domain of translation, interpretation and namely in the field of medicine;

• in-depth medical or pharmaceutical knowledge;

• subject matter knowledge up to date.